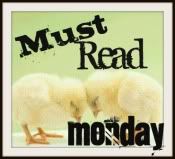 Hey everyone, sorry I missed last week's MMM, but I'm back and ready to participate again this week! This meme is hosted by the lovely Jenna from Fans of Fiction. Please go and check her blog out, she's a total sweetheart! The rules are simple, just create an acrostic puzzle about your favorite book from the week's genre. This week the theme is...
A Book so Powerful it Changed you in Some Way
I have the PERFECT book for this:
S
uffering from the loss of her older sister June, Harper
emb
A
rks on a trip cross country with June's stolen ashes
disco
V
ering there was more to her older sister than she ever knew.
W
I
th Harper's best friend and mysterious new guy Jake, she slowly
lear
N
s what it is to live without June. The hole in her heart
slowly
G
ets
smaller, but the ache is constant for Harper.
And
J
ust when Harper thinks she knows her sister, she finds out the real
h
U
rt and truth behind a girl she never really knew.
N
ow Harper must come to terms with June's final wish and
s
E
e that sometimes the pain is too much to carry alone.
I absolutely fell in love with this book and urge you all to at least check out it's proper summary on goodreads or look up my review in my blog's archive.