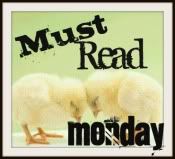 It's been awhile and I've been off my blogging game, but I'm back at it with a Must Read Monday! You all should definitely check this meme out. Its hosted by the sweetest Jenna at Fans of Fiction and features a book category in which bloggers make acrostic poems using the title of the book. This week's theme is...
An amazing controversial/banned book
H
aving no extraordinary abilities,
A
boy defies all logic and
R
eason to become the most expemplified and
R
ighteous name in wizarding history.
Y
outh triumphs evil in Hogwarts and a
P
loy to destroy all goodness is
O
verthrown by the boy with the lightning scar.
T
he trio of teens prove that friendship, loyalty,
T
rust and perseverance conquers all and that
E
veryone needs a little magic to help chose what is
R
ight over what is easy.
Ok so I totally had to dust the cobwebs and amp up those creative juices in order to get back into the swing of things. I love this meme and I'm determined to get back into it again!