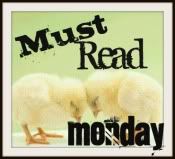 Monday's here and the start of another week. What better way to celebrate than with a Must Read Monday?! Hosted by Jenna at Fans of Fiction, MRM gives bloggers the chance to showcase their creativity! Each week is a different theme with the chance to create an acrostic puzzle and gain more followers! This week's theme is...
A Fictional Character You'd Want As Your Best Friend
I instantly thought of Halley from Someone Like You by Sarah Dessen!
sHe's always felt hidden in the shadows when
compAred to her best friend Scarlett, but when
ScarLett learns she's pregnant and the father no longer
Living, Halley becomes the support Scarlett needs.
WhEn the world turns its back on her and Scarlett is a child herself
You'd want a friend like Halley to be there till the end.